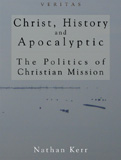 A series of posts has begun around Nate Kerr's book Christ, History and Apocalyptic: The Politics of Christian Mission over on the Church and Postmodern Culture blog.  First up is Joshua Davis on the introductory chapter 1, who has just posted his engagement on Monday.  The conversation is already picking up nicely.
Here is the rest of the schedule:
19 January – Chapter 2: "Ernst Troeltsch: The Triumph of Ideology and the Eclipse of Apocalyptic", response by David Congdon
26 January – Chapter 3: "Karl Barth: Foundations for an Apocalyptic Christology", response by John McDowell
2 February – Chapter 4: "Stanley Hauerwas: Apocalyptic, Narrative Ecclesiology, and 'the Limits of Anti-Constantinianism' ", response by John W. Wright
9 February – Chapter 5: "John Howard Yoder: The Singularity of Jesus and the Apocalypticization of History", response by Douglas Harink
16 February – Chapter 6: "Towards an Apocalyptic Politics of Mission", response by James K. A. Smith
23 February – Concluding response by Nathan R. Kerr (although he has already been providing helpful clarifying comments already)
Also, Nate informs me that Cascade Books is still offering a 40% off discount if the book purchased through their site using the discount code "KERR40", bringing the book down to $16.80 (significantly cheaper than Amazon).
Dave Belcher informs us that there will be a panel at this year's Wesleyan Theological Society conference on Nate's book as well.  Panelists include Scott Daniels, John Wright, Sam Powell, and Michael Cartwright, with Nate responding, and Dave Belcher at the moderating helm.